I've read countless questions on Insta and Facebook about teachers looking to keep elementary kids engaged and build community through fun Google Meet and Zoom activities.
I found myself bookmarking and saving all the posts I saw but was feeling frustrated when digging through all those bookmarks when planning my week.
SO, I got us organized!
No matter which platform you're using to meeting "face to face" with students, these zoom activities will work!
Enter your info below to download the list of 25 Google Meet and Zoom Activities for grade 3-5 teachers.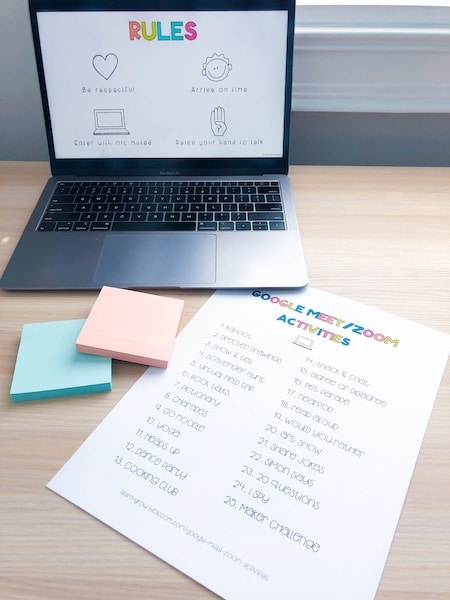 25 Google Meet and Zoom Activities
1. Kahoot
Play a live Kahoot as a class! Share the Kahoot questions by going into present mode. Students will either have to switch between two tabs or use a split screen. The first tab (or screen) is for Zoom or Google Meet and the second is for Kahoot. Trust me, it sounds more complicated than it is. My third graders figured it out in no time!
2. Directed Drawings
There are lots of different resources and ways to do directed drawings. Some ideas are:
Use a document camera to lead students through a directed drawing while on Google Meet or Zoom.
Go into present mode and share a directed drawing video. My favourite is Art for Kids Hub on YouTube.
Set up your device so students can see what you are drawing (a phone with a tripod might be best).
Go into present mode when on an iPad and use a drawing app to lead a directed drawing. I love Procreate!
3. Show and Tell
Have students ready for Show and Tell by having them bring what they'd like to show to the Google Meet or Zoom Call. Ask them to be ready to share 2-3 things and be ready to take a question or two (if you wish). Have students enter with their microphones muted and show and tell objects out of the camera's view. Call on them one by one to share.
4. Scavenger Hunt
There are SO many ideas for fun scavenger hunts out there! We did a scavenger hunt as a staff in one of our online staff meetings and we had a BLAST. Not to mention… we got very sweaty! Haha!
Find or create a list of everyday items for students to find and see who can find them all first. My friend Kayla from The Calabash Classroom has a great Distance Learning Scavenger Hunt resource. Check it out here.
5. Virtual Field Trip
There are ENDLESS places offering free virtual field trips right now. Some ideas are: famous landmarks, museums and animal sanctuaries. The best way to find a great virtual field trip, in my opinion, is to search something that's related to your curriculum. What a fun way for students to learn content!
6. Book Talks
Have students come to your Google or Zoom Meet ready to share about a book they've been reading. You can give them prompt questions, if you like. They can give a quick summary and discuss if they would recommend it to their classmates.
7. Pictionary
Share this pictionary word generator link with your students so they have it open in a tab for their turn. Split them into two teams. The easiest way to split them into teams is to divide them based on where they are in the grid. One person is responsible for drawing for their team at a time. That person generates a word and starts to draw. I suggest putting a one minute timer on your screen. Their team has to try to guess before the timer sounds then it's the other team's turn.
8. Charades
You can use the same word generator as Pictionary but set it to "charades". You can play charades in much of the same way as Pictionary. Split students into two teams. One person generates a word and starts acting the word out to their team to try to get them to guess before the timer runs out.
9. Go Noodle
I haven't met an elementary student who doesn't love Go Noodle. Play a Go Noodle while in present mode and all students can view the same video, at the same time. This is a great option to get students moving as they may not be moving as much as they normally would.
10. Yoga
Yoga can be set up in the same way as Go Noodle. I highly recommend Cosmic Kids Yoga on YouTube.
11. Heads Up
The "Heads Up" game app is currently free! To play with your class, have students download the app to a device that they won't be using to connect to Google Meet or Zoom with. When it's their turn, they will hold it up to their forehead and try to guess what the word or phrase is, based on their peers' clues. This game is identical to the "Headbandz" game, if you are familiar with that one! If you are playing with many students, I suggest having students unmute their mics, one at a time, to give clues.
12. Dance Party
Put on some music and have a dance party! Depending on your kiddos, they might feel weird just freestylin' so putting on a few Just Dance videos are a great option, too!
13. Cooking Club
Have students set their device up in the kitchen and make something together! They can all prepare their favourite snacks, at the same time! You can also provide a few, easy kid-friendly recipes for them to try. Make sure they are ingredients that most families would have on hand! You definitely want students to have their mics off for this one!
14. Snack and Chat
This one is simple. Have students meet you online with their favourite snack. This is a social time where they can simply chat kind of like they would during snack time in the classroom.
15. Agree or Disagree
This is one of my students' favourite morning meeting activities as they love to share their opinions and debate the various topics.
Say a statement then have students write "strongly agree", "agree", "disagree" or "strongly disagree" in the chat. Then, have students raise their hand if they would like to share their opinion.
Some statement examples are:
Every child, all over the world should get to go to school.
Travel should be free of charge.
Every family should have a pet.
Get the Zoom Activities For Grades 3-5 Freebie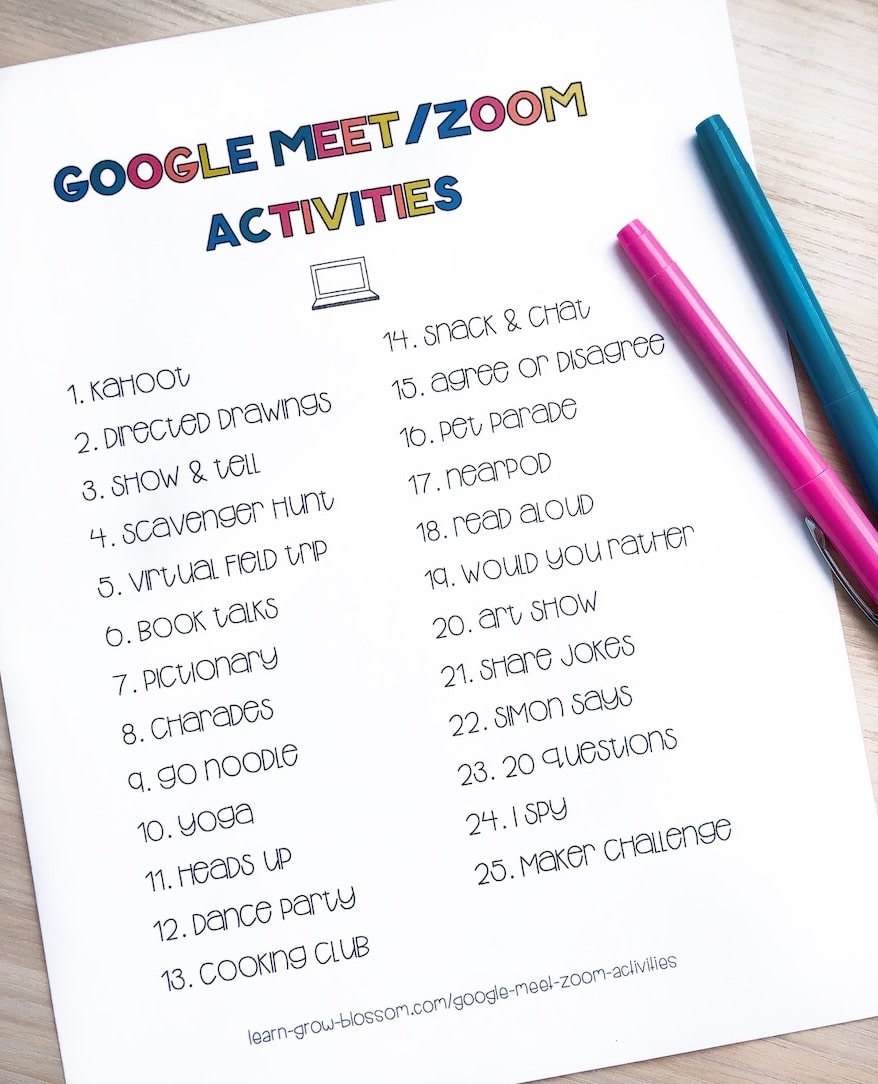 Want the list of activities to do with your third, fourth and fifth graders? Enter your details below and I'll send it to your inbox!
16. Pet Parade
Let's be real… pet parades happen during all Google Meet and Zoom activities anyway so we may as well make it official. Students can choose to share a pet or a stuffy by introducing them to the class and telling the class a bit about it.
17. Nearpod
I could write an entire blog post all about Nearpod. It is interactive and AMAZING! You can host a live lesson in much the same way that you would do a live Kahoot. There are tons of free lessons and virtual field trips on their website.
18. Read Aloud
I guarantee that your students miss gathering as a class and enjoying a story. together. There's just somethin' special about sharing a book together in your community space. Read a class favourite and I guarantee they will get nostalgic.
19. Would You Rather…
Playing "Would You Rather" can be done in a similar way to "Agree or Disagree" (above). Ask a question and students will reply with A or B in the chat. Then, they can raise their hand if they would like to explain their answer.
Examples are:
Would you rather have to drink all your beverages from A. a huge bucket or B. a baby bottle?
Would you rather A. go mountain climbing or B. go sky diving?
Would you rather be A. an eagle or B. a lion?
For added engagement, have students come to the Google or Zoom Meeting with a few Would You Rather questions written to do as a class. I suggest reminding them to keep it appropriate as they can get out of hand. Haha!
20. Art Show
Like pet parade, this is another Google Meet or Zoom activity that happens naturally during many of our class meetings. Students LOVE to show off their art work and now, they have a lot more time to work on their art at home. Ask each student to come to the meeting with a piece of art to show off and discuss.
21. Share Jokes
Have students come to our class meeting with their best joke to share. You can also read a joke book together in present mode. Check our Epic for joke books to share with you class for free.
22. Simon Says
Play Simon Says the traditional way, except on video. Keep gestures BIG so it's easier to tell when someone is out.
23. 20 Questions
The student leader uses the word generator or thinks of an object. Taking turns, students ask yes or no questions to try to get clues about what the object is. The point is to try to guess the object before 20 questions are asked.
24. I Spy
Play I Spy using students' backgrounds in Google Meet/Zoom. You can have students raise their hands to guess or type their guesses in the chat to make sure it doesn't get out of control on you!
25. Maker Challenge
Instruct kids to build or create something prior to the meeting. This is a maker space type challenge. They can use house hold, craft or building materials to create something. You can give them a prompt like create something out of recycled materials or you can leave it open. They can show what they made and talk about it.
Looking for more for google meet and zoom activities?
I've created an editable Google Slides resource that goes along with these 25 Google Meet & Zoom Activities. This resource includes: class meeting rules, an invitation template, how to video, invitations to share with families for each activity and slides with directions, videos & links that you can share during your meetings (by presenting your screen).
Click here to check out the Google Meet & Zoom Activity Slides for Distance Learning.
Further Reading
For more tips & ideas for distance learning check out these blog posts: